Since its release on 4th August 2020, Fall Guys: Ultimate Knockout has been an instant success and exceeded all expectation, in terms of both sales and viewership. The new release boasts a reported 10 million players, just a week after launch: 8 million PS4 and 2 million Steam downloads! In addition, GGRecon reported Fall Guys recent performance had briefly overtaken League of Legends as Twitch's most-streamed game, with an impressive average viewership of 182k and 30.6 million hours streamed in a seven day period.
The platformer battle royale title developed by Mediatonic and published by Devolver Digital offers a chaotic yet hilarious experience as your jellybean styled characters endures a number of solo and team-based mini-games to compete with up to 59 other players, all in the hope of being the one to claim the Crown. As the Lead Director, Joe Walsh, explains the original concept of the title was inspired from his time watching Takeshi's Castle gameshow and this formed part of the original pitch to publisher Devolve Digital.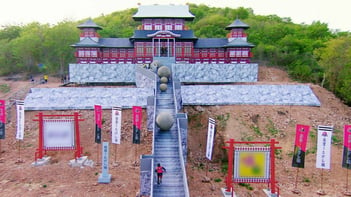 After many late-night sessions on Fall Guys (and no crown) this has led to a wider discussion within the Bryter team: what is driving this overwhelming success?
Simplicity & Accessibility
In recent years, the Battle Royale scene has exploded and become a densely populated market, which makes it even more surprising that Fall Guys shines through against the backdrop of established BR (Battle Royale) titles (COD: Warzone, Fortnite, PUBG & Apex Legends) and the underwhelming reception of Ubisoft's recent BR release: Hyper Scape. Perhaps Fall Guys greatest achievement is that it offers a fresh take on the conventional Battle Royale scene, dialling up the accessibility and simplicity.
Speaking from experience there is an element of frustration surrounding the learning curve of current established Battle Royale's, whether it's being sniped from a towering structure in Fortnite or getting executed by Riley in Warzone – the skill disruption across the player base makes entry gameplay an unforgiving and taxing process.
Fall Guys offers a distinct experience with a uniquely low skill cap for a BR that offsets the frustrations of conventional BRs.
The simplicity of the game controls and mechanics enable a player with minimal gaming experience to jump in a match and be met with immediate quick-fire rounds of action, comedic chaos and importantly the ability to compete. It is refreshingly simple to actually compete in Fall Guys, a quality that is typically overshadowed for newcomers by the combination of a seasoned player base and a high skill cap.
Although there is a degree of finesse to elements of Fall Guys gameplay, this has far less weighting than other games to the extent that chaos and luck have a much greater jurisdiction over the winning outcome. Consequently, there is more of a sense of a 'level playing field' which makes progressing through the rounds an addictive, gratifying, and fiercely competitive experience for all; anyone can win! It's an enticing experience for new-comers and seasoned players alike.
PlayStation Plus market
At its release, Fall Guys was free to access for all PlayStation Plus subscribers, Sony has since announced Fall Guys has gone on to become the most downloaded PlayStation Plus title of all time. Allowing the title to be instantly accessible for no additional cost for an estimated 41.5 million PlayStation Plus users was an exciting way to aggressively kick-start their early player base growth, which has clearly paid dividends.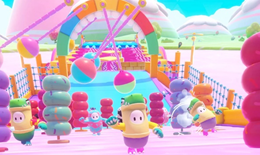 Highly engaged social media and auctions
Another success of this title is their levels of engagement with the community from their relatively small social media team, particularly their presence on Twitter. Whether it's starting a petition to remove team Yellow from the game (a common cause we can all get behind) or celebrating the widely anticipated moment @timthetatman finally secured his first crown; they have very successfully engaged as an in-touch participant in the online conversation that has stirred and amplified Fall Guy's media attention.
The success of their social media management can perhaps be demonstrated through the success of their Twitter auction for a character costume design, which saw G2, Ninja, MrBeast and Aim Lab team up to raise $1 million for gaming charity Special Effects.
Lockdown & Escapism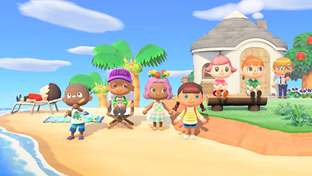 During these uncertain times of COVID & lockdown more and more people are turning to gaming, as seen in the US with a 75% increase in internet gaming traffic according to Verizon.
More than ever, gamers are looking to keep themselves occupied and enjoy a moment of escape, a factor which helped define the success of the 2020 release of Animal Crossing: New Horizons. As gamers are gravitating to vibrant, bright and cartoon aesthetics it can seem obvious Fall Guys is well positioned to capitalise. Bryter's own recent study of PC gamers in lockdown revealed a sharp rise in gamers playing social games, including older gamers who have traditionally eschewed social gaming in favour of more solitary activity. You can access the full report and dataset for this study here.
Overall, it's a welcome breath of fresh air that remedies many frustrations of the BR genre and sets an exciting precedent for the near-future of gaming. Will more developers follow suit?
Bryter works with leading game developers, publishers and hardware manufacturers. To find out more about how Bryter provides insight and strategy to the gaming sector get in touch with matt.obrien@bryter-uk.com.