Lockdown has caused us to behave in ways that a few months ago might have seemed strange. In finding ways to take up our time, many people have taken up new hobbies, whilst others have doubled down on existing ones.
The gaming industry is one that has bucked the trend of many other industries who have seen revenues hit hard by Covid-19 driven lockdown. Traffic and revenues have increased, with US video game sales hitting the highest level in over a decade in March. Last week saw Nintendo's share price surge 2.8% to its highest level in 12 years.
One explanation for the popularity of gaming in lockdown is the social aspect. In a society where in-person socialising is restricted, virtual social interaction is a highly appealing way to interact with friends, family and strangers, and can help to fill the void left by the lockdown. Social gaming can be competitive, creative or collaborative, depending on the game, allowing players numerous new and engaging ways to interact with others.
Social interaction is important for mental health, and this benefit of gaming has become more apparent in lockdown. Meanwhile, the first ever prescription videogame, EndeavorRx has just been given FDA approval for the treatment of ADHD, highlighting that gaming may be able to alleviate some of the mental health issues brought about by the lockdown.
To gauge how lockdown has impacted on gaming behaviours during this period, Bryter conducted an online survey with 1200 US based PC gamers aged 18-40 years old. Although PC gaming is somewhat distinct from console gaming, many of those who game on PC also play on console. Indeed 86% of the PC gamers we surveyed also own a PS4, Xbox One or Nintendo Switch console.
Lockdown has had an impact. Gamers are spending more time and more money on gaming. We found that at least half of respondents reported each of the following new and increased gaming behaviours.
Over four in five agreed that the total amount of time they spend on gaming during lockdown has increased, and a similar proportion indicated that their gaming sessions are longer. Players reported revisiting old games, trying new genres, and several forms of social gaming.
Gamers are also investing. Over half reported having bought a new PC game, and 45% having spent money on in-game content. A third have signed up to new gaming subscription (such as Microsoft Games Pass or EA Origin Access), and a third have bought new PC gaming equipment or accessories.
Purchasing of new hardware or subscriptions was more commonly reported by the older age groups, likely due to this age group having more money available to invest.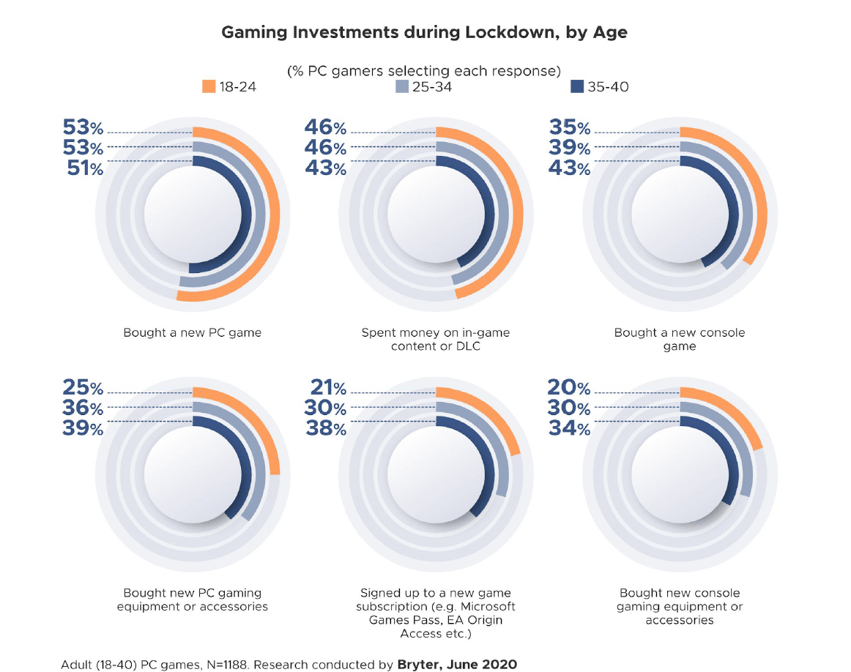 In a lockdown setting, gamers are happy to invest and try new games. This may be because they are looking to maximise the enjoyment they get with the increased amount of time they now have available.
The study has also highlighted an increase in new social gaming behaviours, particularly amongst the 35-40 age group.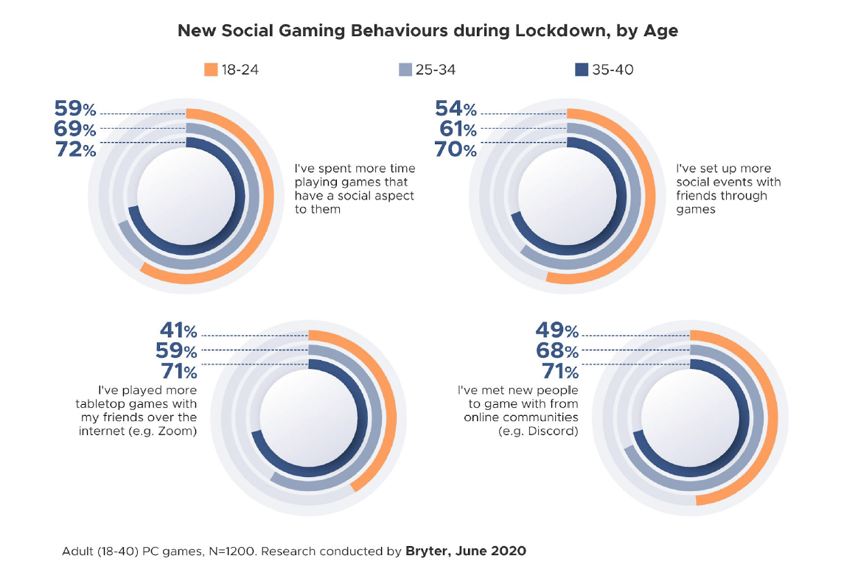 The older respondents in our sample are likely to have begun their gaming lives before the internet and social gaming. Our results suggest that these players are now turning to the more social aspects of gaming to fill the social void left by the lockdown.
Social gaming, particularly amongst older gamers, is a growth area. As some older gamers have shied away from the social aspects of gaming in the past, this presents new opportunities for gaming companies.
Substituting real-world experiences for virtual is a trend that has been growing since before the coronavirus pandemic. Lockdown has brought new older audiences into the world of social gaming. It will be interesting to see if this behaviour continues once lockdown ends, or if these older gamers will make a return to a more solitary gaming experience.
If you would like a complimentary copy of the full dataset for this study, follow the link below:
Bryter works with leading game developers, publishers and hardware manufacturers. To find out more about how Bryter provides insight and strategy to the gaming sector get in touch with jenny.mcbean@bryter-uk.com