Perhaps first we should look at what midcore games are… typically on the mobile game spectrum, at one end we have casual games – these tend to be fairly straightforward games that players can get to grips with very quickly, a category defined by games such as Candy Crush and Angry Birds.
At the other end, we have the hardcore games – complex games that require more tutorials and onboarding, but then have the potential to lead to longer term engagement. Midcore games (not surprisingly) sit somewhere in the middle; a slightly lighter alternative to hardcore games that take less time to get the hang of, but often have a greater strategical element than casual games.
In the past, midcore titles have often occupied the top spots in the mobile charts (e.g. Clash of Clans, Game of War), but now they are facing tougher competition, not only from the sheer number of mobile games available but also from the variety of genres and styles out there.
Firstly, we have the emergence of more 'hyper-casual games.' This is an extension of casual games, where the games are effectively stripped back to the bare minimum, typically using single-mechanic gameplay. Perfect for that evening commute home, where you really can just switch off and play. Although these hyper-casual games often rise and fall quite quickly in the charts, the advantage is that they are a lot easier to develop, even compared to traditional casual games like Match 3s. The appeal of hyper-casual games against midcore is that they are instantly playable and often have small file sizes (very important for those of us always struggling to free up space on our phone).
Looking again to the other end of the spectrum, hardcore games are also becoming increasingly popular. One of the most popular types of mobile hardcore game at the moment is Battle Royale, probably best known for big titles such as Fortnite and PUBG – both were originally PC/Console games before releasing mobile versions.
It's hard to have missed the craze that is Fortnite - a game that has swept the nation, from school kids to celebrities. Fortnite mobile managed to surpass 100 million downloads in just 138 days back in 2018, and this strong performance seems set to continue. Its shock Black Hole event almost sent the internet into meltdown as devoted fans watched the whole map explode into a black hole and then waited impatiently for the new chapter 2 to drop. Its rival PUBG Mobile (Player Unknown's Battlegrounds) also boasts some impressive stats; having rocketed to the top spot on the free charts in 17 countries just 24 hours after its release.
The widespread popularity of these games is likely to have opened the floodgates for more similar games to appear. Phone manufacturers have also picked up on the growing popularity of hardcore mobile games and are now producing smartphones that are specifically tailored to mobile gaming.
So with such a boom in hyper-casual and hardcore titles, is there still a place for midcore? I think YES. There are plenty of people who like to game but perhaps can't afford to invest the time needed for more hardcore games, for example, earlier hardcore gamers who now have family or work commitments. Midcore titles combine the depth of more hardcore titles with the accessibility of casual titles. They are often similar to their casual counterparts in design but with a greater aspect of strategy and the ability to level-up.
The key question with midcore games is who to target. Sitting in the middle of the spectrum, midcore games have the potential to appeal to such a broad audience. The risk here is that in trying to design a game for everyone, it ends up being a game for no one.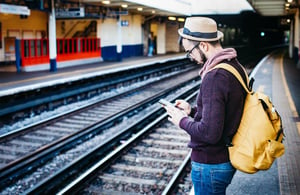 So while it may be difficult to design a game for everyone, you can help maximise audience reach by using the mantra easy to learn, hard to master. In other words, casual players can quickly understand and play the game with little time investment, but the game should evolve and become more challenging for the more hardcore players.
To find out how Bryter can help you understand which audience to target with your game and maximise reach get in touch with jenny.mcbean@bryter-uk.com