As researchers the intention-action gap is an important one for us to be aware of. What a consumer thinks they will do is not the same as what they will actually do.
It's hard to avoid the posts on Linked in about how if brands don't evolve and become more sustainable and more purpose driven, they are going to die. A noble sentiment but are we kidding ourselves that consumer priorities, and consequently behaviours are shifting as much as we think they are?
This isn't the sexiest read. It doesn't mention the shifting priorities of Gen-Z or the need for brands to deliver purpose or die, but it does show something interesting. A large aggregated data set on the recycling behaviours of UK households, and the total amount of waste collected and if that is residual waste or recycled waste. Household waste is by no means a perfect measure of behaviours, but is a pretty good indicator of overall patterns of consumption, what we are chucking away and in what form.
If we're changing our behaviours to shop and live in a more sustainable way, we would expect to see the proportion of our recyclable household waste increase as consumers shun less sustainable alternatives
Recycling data from UK households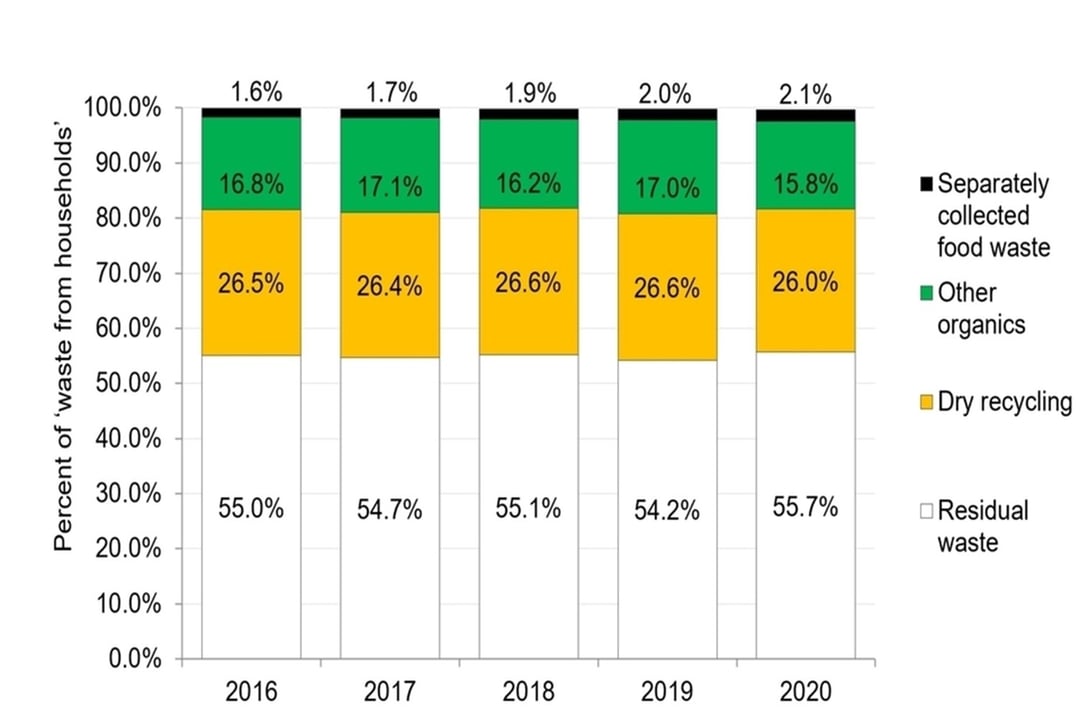 Notice something in the data? The proportion of recyclable waste collected remains pretty constant. At the same time, UK households think they are recycling more than ever. A survey of 4,729 UK in October 2020 Self-reported recycling has increased across the UK in 2020: 89% say they regularly recycle (up from 87% in March) and 56% say they are recycling more in the past year.
Why is this important, well it shows that consumer behaviour (in relation to household recycling) isn't changing that much. This is of course just one slice of consumer behaviour, and shouldn't be taken as a proxy for all forms of consumer behaviour, but it highlights the intention action gap quite nicely and is a good reminder for us as researchers to not just take what consumers tell us they do or will do at face value.
Bryter helps organisations gain a deeper understanding of consumer behaviours and motivations. Get in touch to find out how we can help provide a deeper understanding of your audiences
Sources:
https://wrap.org.uk/resources/report/recycling-tracker-report-2020-behaviours-attitudes-and-awareness-around-recycling
https://www.gov.uk/government/publications/progress-report-on-recycling-and-recovery-targets-for-england-2020/progress-report-on-recycling-and-recovery-targets-for-england-2020
If you would like to access the full version of this report and dataset for this study, you can download a copy of it in the reports section of the website