In 2020, worldwide digital game revenue is estimated to have risen to $123.5 billion; this growth is part of a clear trend over the last 5 years as gamers are consuming more and more digital gaming content. The Digital River report 'Defend Your Kingdom' identifies that part of this is being driven by consumers opting for titles that offer a steady stream of new content.
In light of this developers are increasingly adopting a games as a service (GaaS) model – keeping their player base engaged with a range of supplementary material such as DLC (Downloadable content), additional content for an already released game such as extra levels, cosmetics or weaponry etc, typically at a price.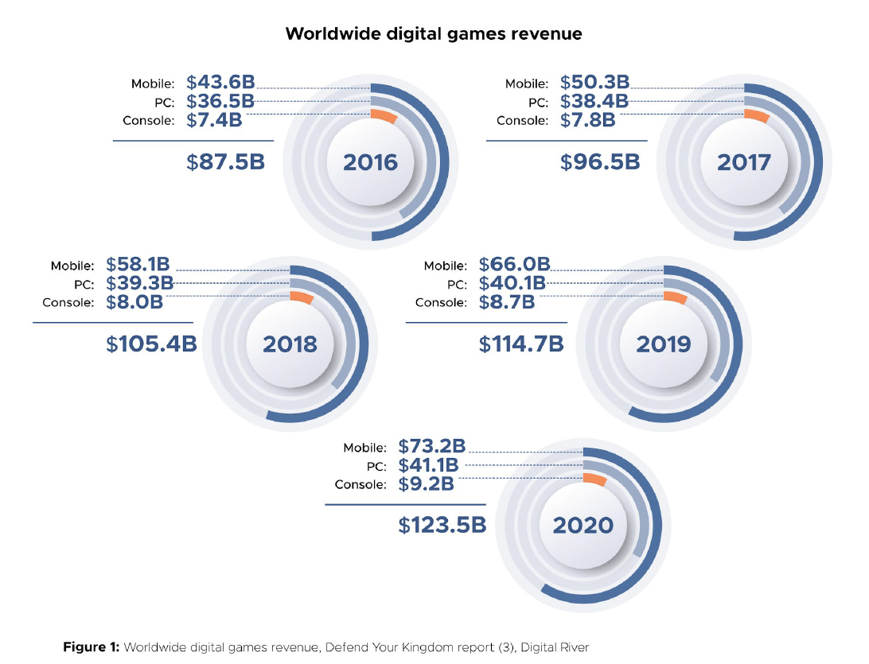 To explore this topic further, Bryter conducted an online survey of 1000 US PC gamers to explore how gamers are interacting with their library, with a specific focus on DLC. The data offers insight into how gamers have distinct behaviours by age, in terms of both investment and expectation of DLC.
Almost half of those surveyed indicated they regularly buy additional DLC, however, for the 40+ audience this proportion rose to almost two in three gamers, while for 18-24 years-olds this figure dropped to just 18%.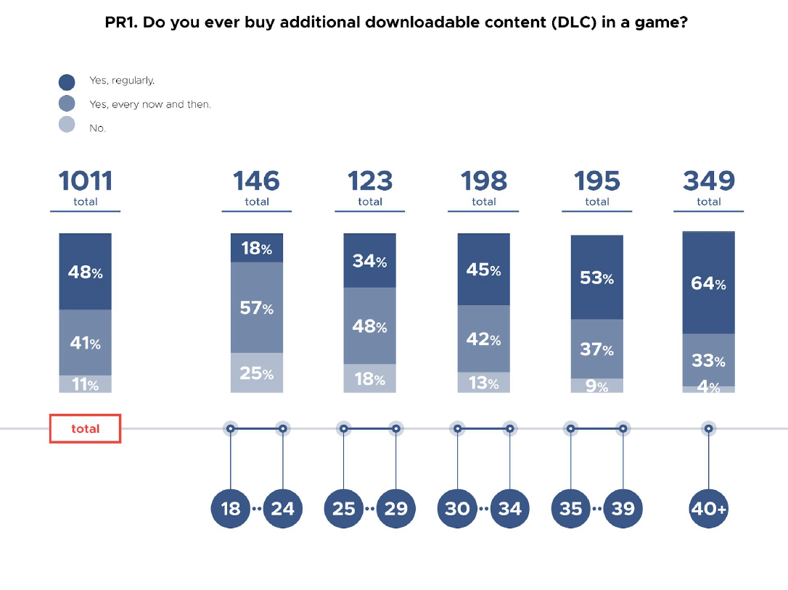 Similarly, we see over a third of the 40+ audience investing over $20/month in DLC, whereas this is only the case for 13% of 18-24-year-olds. It appears DLC is more of a considered and targeted purchase for younger audiences, as they lack the disposable income of older gamers.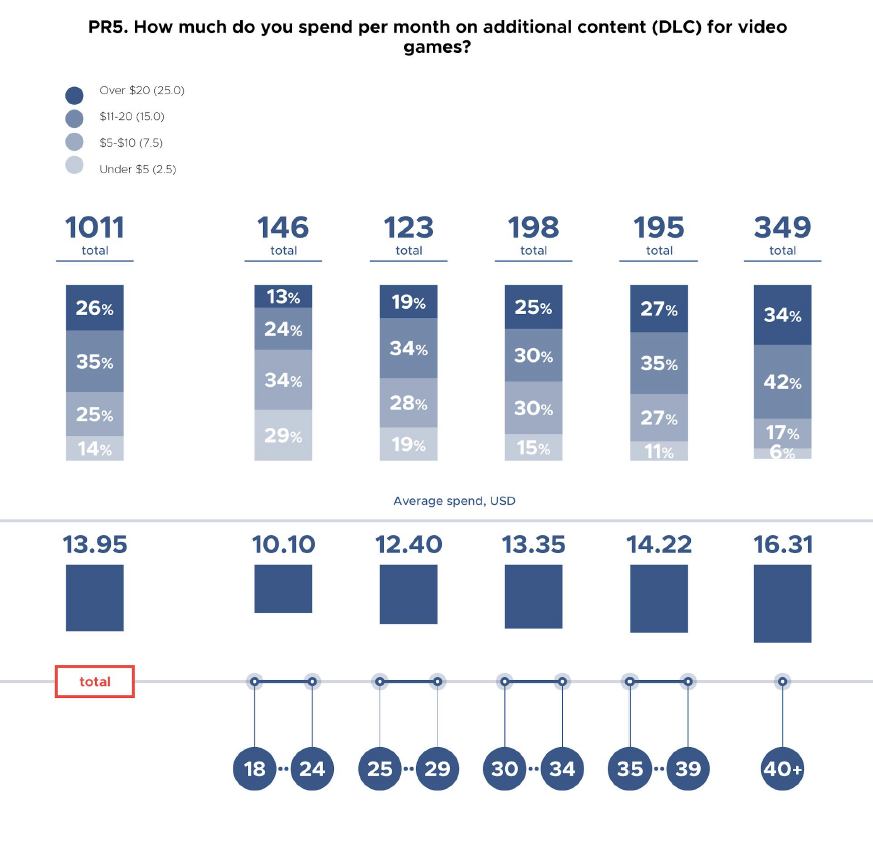 This is further substantiated when focussing on the motivations behind DLC purchases, with the most common reason for 18-24-year olds being to 'extend their enjoyment / being able to play for longer'. Younger gamers have less disposable income but play longer gaming hours and therefore want to squeeze the most out of their games by seeking to extend replayability and get more hard gaming hours. This is driving younger gamers to adopt a more value-centric approach to their DLC investments.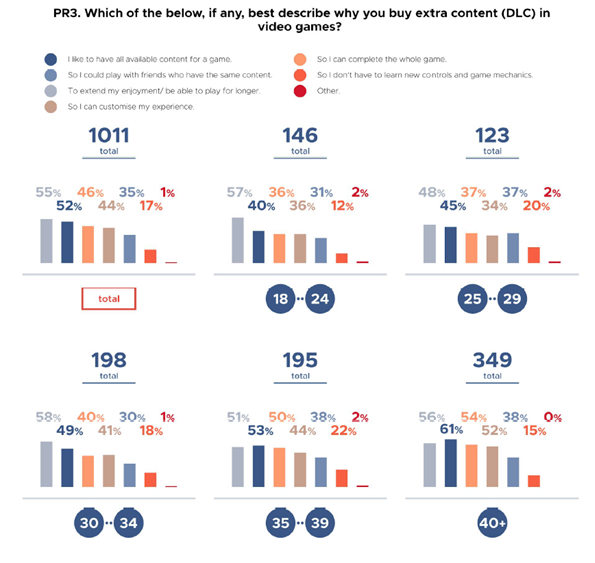 By contrast, older gamers with greater levels of disposable income have more license to explore all the features the gaming experience has to offer, not just extending gameplay. This is reflected in the data, as 35 - 40 years+ gamers are have a broader range of motivations to buy DLC.
These motivations are mirrored in the types of DLC content purchased, the 40+ age bracket purchase more than any other age group for nearly all types of content; older gamers look to enhance their experience through a range of cosmetics, extra characters, weaponry & boosters etc. (as well as extra levels). Whereas, there is a clear distinction with the 18-24-year olds, as they have significantly more honed purchase habits focussed around 'extra levels, areas or modes'.
The clear shift in DLC purchases reflects the differing consumer needs of the audiences from extending gaming hours to supplementing the overall gaming experience.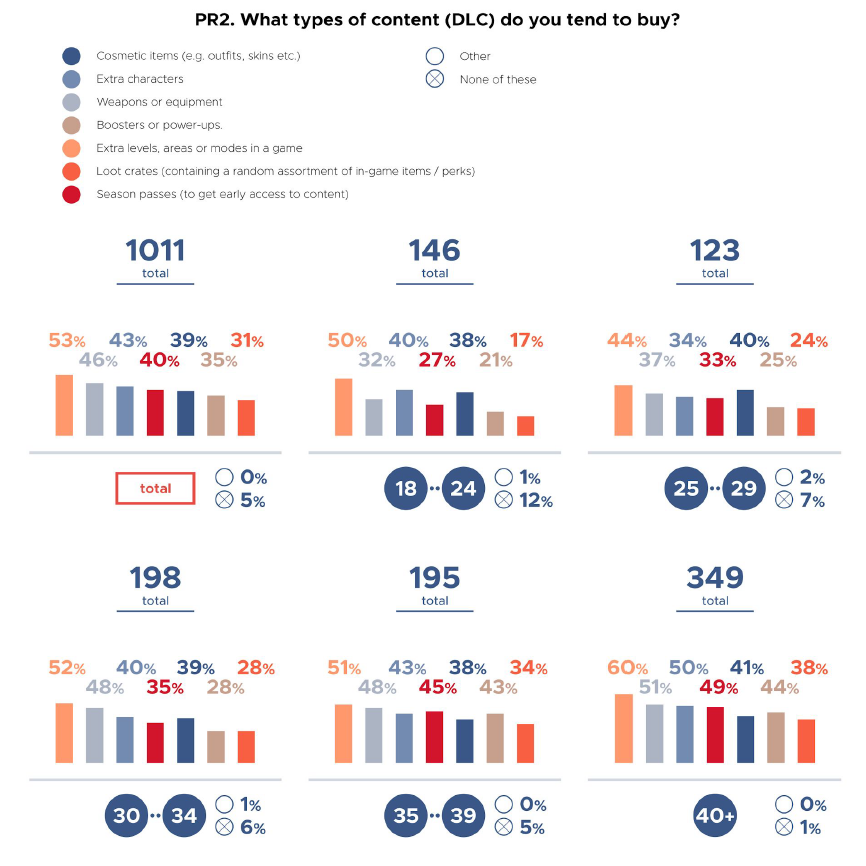 The dataset gives a valuable insight into the purchase motivations of different audiences, and therefore how they should be targeted with messaging around DLC. Overall, older gamers use DLC as a means to enhance all areas of their gaming experience, while youngers gamers purchase DLC specifically to extend it.
Visit the Bryter gaming blog for more insight into gamer motivations, attitudes and behaviours.
Bryter works with leading game developers, publishers and hardware manufacturers. To find out more about how Bryter provides insight and strategy to the gaming sector get in touch with matt.obrien@bryter-uk.com or visit www.bryter-uk.com